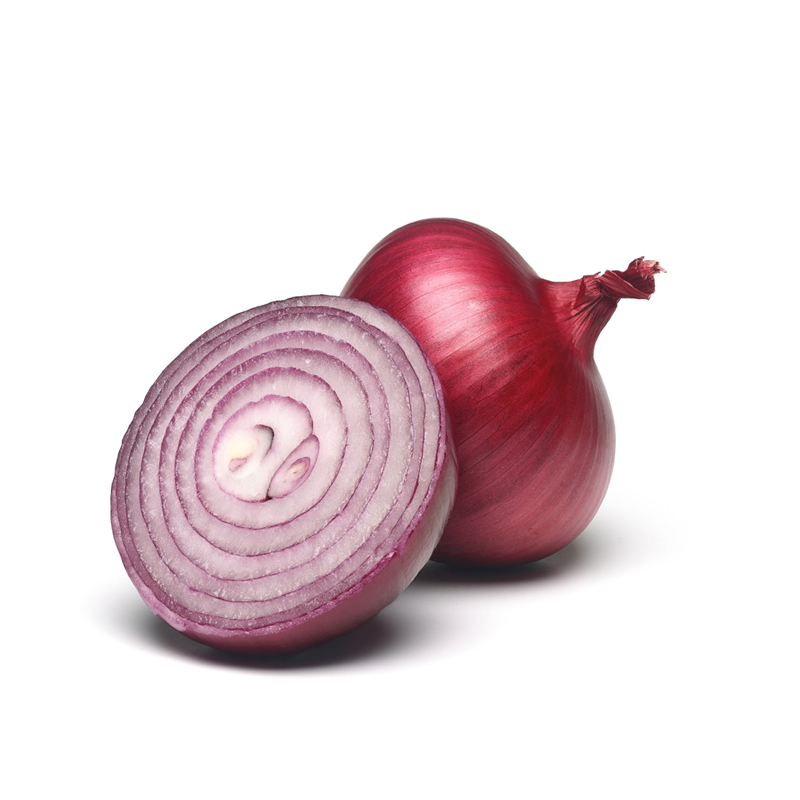 The nutritional composition of onion is similar to that of other fresh vegetables. It is more or less rich in water content: the content varies from 86-89% of the onion "on call" (or "dry onions), and can reach 90-93% for fresh onions (onions Spring ).
Read more
It owes much of its energy intake (34 kcal per 100 g on average is 142 BTU) at its carbohydrates, or carbohydrates. These are formed mainly by fructans, sugars from the plant reserve. These carbohydrates, complex molecules made up of chains of fructose, are only partially assimilated. There are also glucose, fructose and sucrose, and small amounts of other carbohydrates (pentosans and hexosans). A total carbohydrates represent about 7% of the mass of the onion. In the white spring onion, richer in water, the rate of carbohydrate is a bit lower, as energy intake (25-30 kcal). The proteins, fats and other energy components of the onion are present in very small quantities. Among the many minerals and trace elements, sulfur is the most characteristic. It reached 50 mg/100 g, and in the composition of substances responsible for taste and odor characteristic of the onion. Sulfur is considered a factor limiting the digestive tolerance of a food. There are also significant levels of potassium (170 mg/100 g), phosphorus (35 mg) and calcium (25 mg). Some trace elements are relatively few well-represented: for example, selenium, which helps the immune system and is essential in the fight against cellular aging (0.001 to 0.010 mg/100 g, estimated daily need from 0.055 to 0.070 mg ) onion is one of the best vegetable sources of selenium, manganese, an activator of many enzymes and regulator of brain neurotransmitters (0.15 mg/100 g; daily need of about 4 mg), cobalt , anti-anemic as a cofactor of vitamin B12 (at a rate of 0.013 mg/100 g) fluorine, necessary for the proper condition of teeth and bones (0.04 mg/100 g), the molybdenum catalyst N (0.01 mg), etc. The vitamin C content of the onion is far from negligible: it reaches 25 mg/100 g in white onion (fresh onion), and remains at about 7 mg in the onion "on call" , that which is eaten all year. We understand better the role of food antiscorbutic formerly played by the onion to the sailors who went deep sea colored pigments (yellow flavonoids polyphenols, anthocyanins, substances or red or purple) that provide different varieties of onions their color characteristics, also have properties "vitamin P", and potentiate the action of vitamin C (including by strengthening the resistance of capillaries). Many B vitamins are found in onions, with moderate rates. We also note the presence of vitamin E (0.14 mg/100 g) and provitamin A (from 0.01 to 0.05 mg). The fibers, moderately abundant (2.1%), consist of both cellulose and hemicellulose (which form the walls of plant cells) and pectin and other colloidal substances (giving compounds mucilaginous consistency after cooking). This balance between fibers of different nature, makes the cooked onion gently laxative, and well supported by the intestines.
THE NUTRITIONAL AND DIETARY
Although it is often consumed in moderate amounts – especially when used as a condiment – the onion has real nutritional value: it can provide significant amounts of vitamin C, and "vitamin P factor", many minerals and trace elements (including selenium, the immune properties and anti-oxidant known). And all this together with a moderate caloric intake (in general we appreciate today!). But this onion, more, original physiological actions, which were the subject of many recent studies : Diuretic Apparently due to the presence there of fructans, these special carbohydrates are abundant in the medulla, and probably in high ratio of potassium to sodium. Beneficial effects on the cardiovascular system The fresh onion inhibits platelet aggregation (by acting on different enzyme systems), which avoids the possible formation of clots, and protect the risk of vessel blockage and stroke. A Bordeaux team has shown that these effects are observable with a daily consumption of 200 grams of raw onions. In animals, it has also demonstrated a protective effect vis-à-vis dietary cholesterol overload. Hypoglycemic action Onion precludes excessive rise in blood sugar. Active ingredients: sulfur certain constituents (allyl disulfide and propyl) and amine specific (DPA). This action has been found in animals and humans. Bacteriostatic A fresh, onion prevents microbial growth, and may even play a role in anti-bacterial, particularly against gram-positive bacteria
THE AVERAGE COMPOSITION TABLE
Composition moyenne * pour 100 g net Composants (g) Glucides 7.10 Protides 1.30 Lipides 0.20 Eau 89.0 Fibres alimentaires 2.10 Minéraux (mg) Phosphore 33.00 Calcium 25.00 Magnésium 10.00 Soufre 50.00 Sodium 6.000 Chlore 25.00 Bore 0.170 Fer 0.300 Cuivre 0.050 Zinc 0.200 Manganèse 0.150 Nickel 0.002 Cobalt 0.013 Chrome 0.001 Molybdène 0.010 Fluor 0.040 Iode 0.002 Sélénium 0.003 Vitamines (mg) Vitamine C (ac. ascorbique) 7.000 Provitamine A (carotène) 0.010 Vitamine B1 (thiamine) 0.060 Vitamine B2 (riboflavine) 0.020 Vitamine B3 ou PP (nicotinamide) 0.300 Vitamine B5 (ac. panothénique) 0.110 Vitamine B6 (pyridoxine) 0.140 Vitamine B9 (ac. folique) 0.020 Vitamine E (tocophérols) 0.140 Apports énergétiques KCalories 34.00 * This is an average composition for information: the values are to be regarded as orders of magnitude, which vary depending on variety, season, degree of maturity, growing conditions, etc.. From: "Global Directory of Food", REGAL (1995) – "Minerals" (1996), "Composition of Foods", Marigold, Fachmann and Kraut, "The Composition of Foods", Mc Cance and Widdowson.

Harvest From Epoque
Period of Marketing